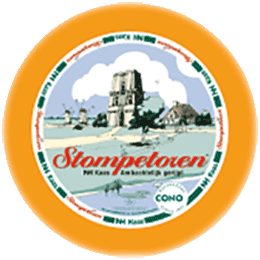 Ingredients
3 tablespoons of olive oil
2 large garlic cloves, finely chopped
1/2 teaspoon of salt
1 small eggplant (about 340 grams), cut into slices about 1/2 inch thick
1 large zucchini (about 340 grams), cut into slices about 0.5 cm thick
1 medium tomato, thinly sliced
115 grams of finely grated Stompetoren Light Matured
Portions: 4
Preparation time: 15 minutes
Cooking time: 10 minutes
Preparation
1. Mix the olive oil with garlic and salt and spread this mixture on the aubergine and zucchini. Place eggplant and zucchini on the grill and bake for four minutes (flip once) or bake until the slices are cooked and crispy. Sprinkle stompetoren cheese evenly over the vegetables and grill for one minute until the cheese starts to melt.
2. Then make piles: place four slices of aubergine on a foil plate and place a slice of tomato and a few slices of zucchini on each slice of aubergine. Apply such a layer again and top with a slice of aubergine. Place the foil tray on the grill and bake the vegetable snacks for two minutes, or bake until they are warm through and through. Serve with extra grated Stompetoren and garnish with basil.
Everything worked out? We are very curious about your creations. Share your dish with us on Facebook!