Stompetoren

extra
matured – old

Cheese from 7 months to 1 year old, with a creamy spicy taste. The old cheese has nice white crystals.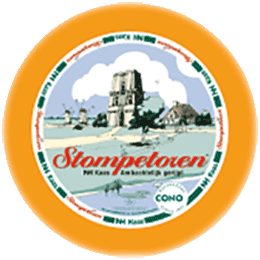 Stompetoren extra matured
The Stompetoren extra matured has been ripening for 7-8 months. The structure of the cheese is a bit more solid and the color gets more orange. The cheese has develop a nice strong taste and with some luck it will have little salty ripening crystals. Most of the extra matured cheese is consumed in combination with bread, but it is also delicious with a glass of wine.
Recipes

with Stompetoren cheese
A delicious small bite. The taste is renewing and surprising with Stompetoren old cheese.
Stompetoren old
The Stompetoren old is a slicable old cheese from around 12 months old. It has been ripening on wooden shelfs and has been checked by the cheesemasters several times. Due to the special ripening conditions the cheeses are not getting hard or dry, but do keep their full and creamy taste. The cheeses do have white ripening crystals and is delicious with a glass of wine. Stompetoren old is also available in a special black edition.
'Our
cheese experts

do keep an eye on the cheeses during the ripening to make sure the

taste

developes in the right way.'